History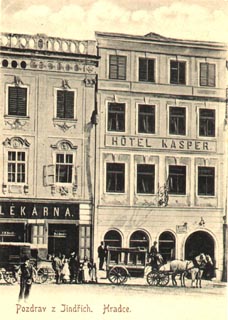 Great-great-grandfather Antonín Kasper, the innkeeper, began to run his accomodation and restaurant services in 1872 at Jindřichův Hradec's square. He was the owner of Černý orel (Black Eagle) inn, later renamed as HOTEL KASPER. After the inn was sold on 24th March of 1938, it was known as HOTEL SCHNEIDER. On 1st March of 1949, according to the Ministry of Inner Trade, a "national administration" was inflicted on the inn (for those who don't know what that means – his buisiness was stolen by the communists). The inn was renamed yet again – HOTEL GRAND. The inn was returned to the Schneider family after the Velvet Revolution. Some time later, the family sold the hotel to Mr. Jiří Švihálek, who runs it today under it's traditional name HOTEL GRAND.
Great-grandfather Antonín Kasper, the hotel manager, took over after his father (see the picture with the stage-coaches).
Great-grandmother Vilemína Kasperová was running the hotel after her husband passed away. She gave the family businnes to her two sons later.
Grandfather Antonín Kasper, the hotel manager, with his brother Hubert were running the hotel for some time and then sold it in 1939. Both brothers then began to work for the RAJ and LSD Jednota hotels.
Father Antonín Kasper, the waiter.
Milan Kasper began to run the Cyklopenzion in Jindřichův Hradec in 2003 at the same square as his ancestors, but in a different building.
His son, David Kasper, finished his hotel management studies in 2010 in Tábor, and currently represents the seventh generation of the Kasper family who runs the hotel and restauration business in Jindřichův Hradec.
Uncle, aunt and two cousins of Milan Kasper are working as waiters as well. Milan Kasper's brother has been managing his own, infamous DADA club Kasper bar (rouhgly 200 meters from the Cyklopenzion) for the past ten years.